What a sucky event against the Rangers.  Oh well you can't win em all.
Who: Pittsburgh Penguins (14-7-4) vs. Washington Capitals (12-10-1)
Where: Verizon Center
When:  7:00 PM EST
Channels:  NHLN, ROOT Sports
We really covered last year's series in the preview of the first game, which can be found here.
Since we did that, and you can easily read what I wrote, I figured we would talk about the last game and then I would show you guys what some of the Washington Capitals do for fun.
First off the last time out the Capitals had a different coach.  Yes, Bruce Boudreau has been let go.  Boo hoo Barbeque Man.
So last time out the Penguins lost in overtime.  It seems the Penguins have had trouble with these bums in the regular season, but hopefully the departure of the Stay Puft Marshmallow Man will help.
James Neal netted both goals for the Penguins, and Alexander Ovechkin got his first of the season.  One of those annoys me.  Mike Knuble scored against the Penguins which is no surprise at all, and Dennis Wideman scored the game winner.
You also might remember a certain fight in this game.  When Arron Asham gave Jay Beagle the ol' CM Punk.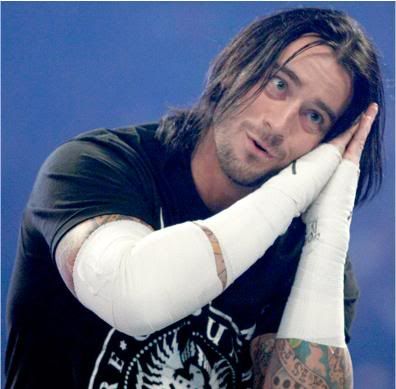 Now onto the fun part.
Alex Ovechkin kind of lives a double life.  He puts on a happy face and makes sure things between he and his girlfriend Pierre McGuire all are g0od as seen below.
What a cute couple.
What Pierre doesn't know though is that Alex Ovechkin does something on the road that would make him very upset.  Something that might drive these two way apart.  And I'm going to break that news right here, right now.
When on the road Alex Ovechkin supplements his NHL income by turning "Ovechtricks".  No you say?  Then how do you explain this?
I'm not sure if you know this or not but Matt Hendricks is part of the 99%!
Hockey salaries must be down pretty far.
Alexander Semin does what he does best.  Whines and cries.  Only when he isn't whining on the ice, he is whining on Youtube.
Buck up bro, big bad Brucey can't hurt you any more.
And we talked about Mike Knuble earlier, but did you know he is very active in politics?  Unlike Hendricks though he is more a conservative and supports Herman Cain.
In fact he has even shown up in a familiar position for Cain, by all reports, at one of his campaign events.
We at TiGO could not confirm that Mike Knuble is actively petitioning the league to have his number changed to 999.
And last but not least is Mike Green.  When Green isn't playing, which seems to be all the time, he has a part time job too.  That just goes to show you how tough this economy really is, even for a well paid athlete.
All the way to Asia?  The American Economy must REALLY suck.