Another draft has come and gone so it is now time for everyone to pass judgment on what the Steelers did in the draft on the basis of no fact at all. For example, last year I thought the Steelers draft was immaculate. I thought ever hole was filled and then some. Then David DeCastro and Sean Spence both got injured. Spence may never play again. Chris Rainey got released after slapping his girlfriend for…I don't know…being bigger than him or something. Alameda Ta'amu decided to play drunken demolition derby. It was a mess. This year's draft is already off to a bad start because Skip Bayless approves of it.
Steelers amaze me. Know exactly who they are, what they need. Lose James Harrison, draft Jarvis Jones. Need rough/tough banger: Le'veon Bell

— Skip Bayless (@RealSkipBayless) April 27, 2013
Round One: Jarvis Jones, LB, Georgia: For possibly the first time ever, I predicted the Steelers' first round pick correctly. The loss of James Harrison made outside linebacker a need. LaMarr Woodley will of course start on one side, however Jason Worilds is likely going to be the starter on the other side. And while he showed improvement last year, he's far from proven. Woodley's ability to play 16 games in a season is also minute. There are concerns about Jones' spinal issue as well as his speed. That being said, running a 40 yard dash doesn't really translate an outside linebacker's speed correctly. Remember, the same thing was said about Terrell Suggs. He turned out alright. He's just really ugly.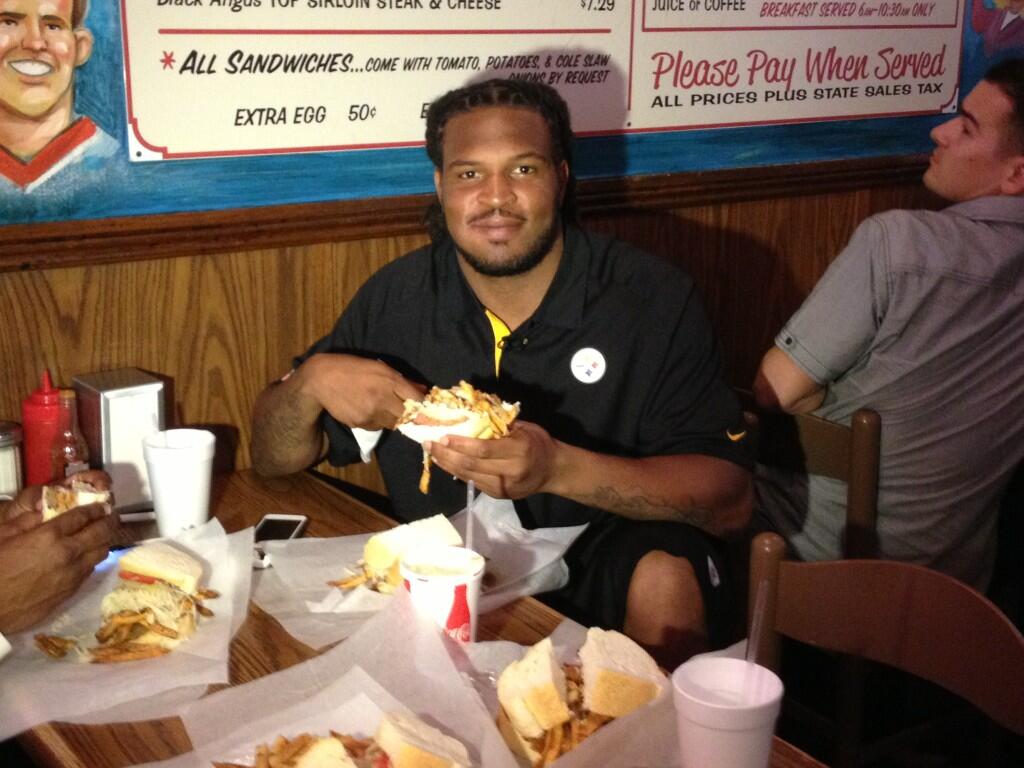 Round Two: Le'Veon Bell, RB, Michigan State: I wasn't really expecting the Steelers to go running back so early in the draft. Help at the position certainly was a need. I just wasn't wild about the class of running backs coming into the draft. That isn't to say I have a problem with the Bell pick. If they were going to draft a running back at this point, I like him more than Eddie Lacy and Montee Ball. The issue is that now they have three of the same running back. Jonathan Dwyer and Isaac Redman do a lot of the same things that Bell does. However, it was announced that Dwyer has been put on the trade block. The problem is that I doubt there is much of a market for him.
Round Three: Markus Wheaton, WR, Oregon State: Emmanuel Sanders' injury history and the fact that he's only on a one year deal along with the loss of Mike Wallace in the offseason made upgrading the receiver corps necessary. Wheaton became OSU's all time leader in receptions last season. While he is somewhat undersized, he possesses a lot of speed which could make up for the loss of Wallace as a deep threat. The negative thing about his speed is that it gives the Steelers an extra reason to religiously run that wide receiver screen that they love so much.
Round Four: Shamarko Thomas, S, Syracuse: This was the other pick that I was right about the Steelers making coming into the draft. Safety was in my opinion one of the two biggest needs coming into this year. The Steelers even traded up in the round to get Thomas. They gave up their third round pick next season. Thomas struck me as the closest thing to a Steelers safety that the draft had available. He's a hard hitter that likes to get involved around the line of scrimmage and support the run. Let's just hope that this works out better than the last safety that the Steelers drafted out of Syracuse.
Round Four: Landry Jones, QB, Oklahoma: This is probably the first pick of the draft that I had a rather large disagreement with. Yes, Ben Roethlisberger's chances of playing 16 games is low. I know this. A backup quarterback is necessary. That being said, the Steelers already signed Bruce Gradkowski. I'm not saying he's great. I'm saying that Jones is not a better option than he is. The Steelers aren't going to carry three active quarterbacks. This is a practice squad move and it is too early in the draft to make it, especially when there are bigger holes to fill. A lot of my dislike here also has to do with the fact that there was not one quarterback in this entire draft class that I liked.
Round Five: Terry Hawthorne, CB, Illinois: The Steelers decided to get some depth in the secondary after the loss of Keenan Lewis. They have a ton of corners as is. The problem is that not many of them are very good or proven commodities. Hawthorne adds to the competition. He is your typical Steelers corner. He's taller than most corners and possesses a lot of strength and physicality. Where he can fool you is his speed. He has a lot of straight line speed but his ability to turn and run is lacking. This is basically a value pick because Hawthorne could have possibly gone higher if it weren't for some injury issues.
Round Six: Justin Brown, WR, Oklahoma: The Steelers decided to take their second wide receiver of the draft with their first of two picks in the sixth round. The last time they picked wide receivers in the third and sixth round of a draft, they ended up with Antonio Brown and Emmanuel Sanders. That worked out well. I just don't see it here. Brown never really did much of anything to impress me in college. Kind of reminds me of Dallas Baker. That's not a good thing.
Round Six: Vince Williams, LB, Florida State: This pick had most of my Twitter timeline really butthurt. Everyone wanted Mike Mauti from Penn State and that's understandable. He's a popular player and with everything that has happened to him, who's not rooting for him? I'm not going to freak out about a sixth round pick. Middle linebacker depth is a need. A sixth round pick isn't going to make an immediate impact. At least positionally, the pick makes sense.
Round Seven: Nic Williams, DT, Samford: I'd be lying if I said I knew a damn thing about this guy. What I do know is that the Steelers need depth at this position. Williams is an absurdly large human being. And he was projected to go in like the fifth round so I suppose it's good value.
Undrafted Free Agents:
Alan Baxter, LB, Northern Illinois
Anthony Rashad White, DT, Michigan State
Brian Arnfelt, DE, Northwestern
Chris Hubbard, G, UAB
Cordian Hagans, DE, Louisiana-Lafayette
Curtis McNeal, RB, USC
Ivory Wade, C, Baylor
J.D. Woods, WR, West Virginia
Joe Madsen, C, West Virginia
Luke Ingram, LS, Hawaii
Mike Golic, Jr., OL, Notre Dame
Mike Farrell, OT, Penn State
Nik Embernate, OT, San Diego State
Omar Hunter, DT, Florida
Reggie Dunn, WR, Utah