Alright.  A good start to this series.  A good start by Jeff Locke.  Time to mash the pedal though.  The Cubs used four relievers.  Hopefully that comes back to bite them.
There appears to be a secret to the Pirates success.  Something no Sabermatrician could ever quantify.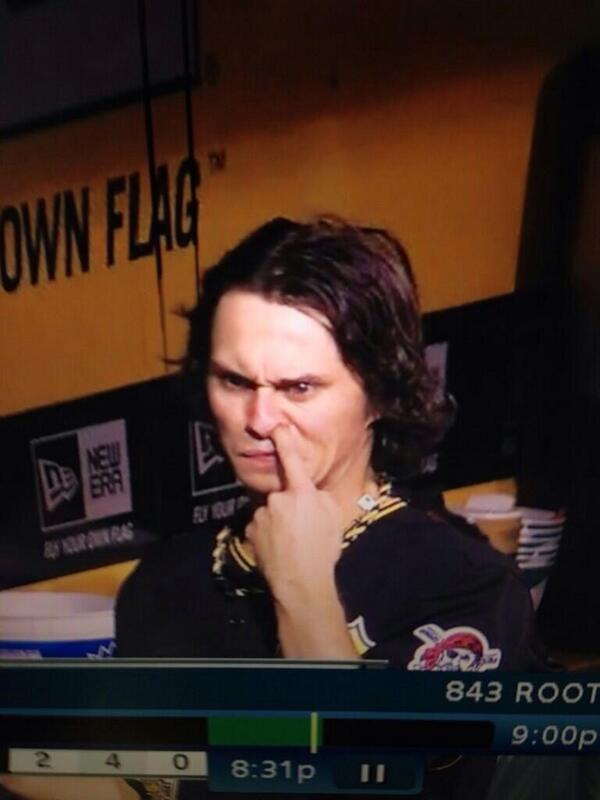 Intensity. That's what makes a good pitcher, and a good picker. There is literally nothing like going knuckle deep for a booger after a hard pitching performance.
Let's hope Charlie Morton took note and is picking away.
Morton had a disastrous start and actually had to leave early due to some weird foot injury. Whatever. Just get past it and dominate these Cubs today.
His only outing against the Cubs was a loss. Sad panda.
Chaz has struggled against the Cubs in his career. Kind of shocking since the Cubs basically suck.
Maybe coming back home will help him out.
Regardless I expect to see a stacked lineup today. His struggles against lefties are as well documented as this fan tackling a freaking kid for a baseball yesterday. Stole that from my man Sproul over at Rumbunter.
I'd probably go ahead and walk Nate Schierholtz….
Jake Arrieta is having consistency problems to say the least.
It seems like sometimes he is figuring it out and then he just gets blasted. I guess this inconsistency is better than the consistent suck he displayed in Baltimore before being traded to the Cubs.
I don't know how many chances Arrieta has left as a starter. I'm shocked he still gets them to be honest. He has really never had a good season. In fact, his time with the Cubs would probably qualify as his best season on record.
Historically lefties have destroyed him.
The Pirates should try to exploit that, although, it hasn't been true this year.
Jakey boy does have two pretty good outings against the Buccos.
As you can imagine that leads to some pretty since overall numbers.
Of all the teams he has faced more than once, only the Brewers have a lower team WHIP against him. That's an admittedly small sample size though.
First Pitch: 7:05 PM EST
Where To Watch: Root Sports, MLB.TV, CSN