I hope last night's performance put your mind at ease a bit.  I certainly understand the nerves, this has been such a long time coming, but it's such a longshot at this point that the Pirates miss the playoffs.  This has just been a crazy time.  Something we aren't used to as baseball fans.
Anyway, the Pirates won't clinch at home.  That sucks for the fans I guess but honestly, who cares?  Just as long as the Pirates clinch a playoff berth somewhere I'm more than fine with it.
Jose Tabata
Neil Walker
Andrew McCutchen
Justin Morneau
Marlon Byrd
Pedro Alvarez
Russell Martin
Clint Barmes
Jeff Locke
It'll be up to Jeff Locke to match what A.J. Burnett and Francisco Liriano did in this series.  He doesn't necessarily have to pitch like a God, that's not what I'm saying.  What he needs to do is go out and pitch good.  Put a foot down.  Draw a line in the sand.  This is the last regular season home game!  He needs to pick up the fanbase and carry them to victory like he picks a booger from his nostril.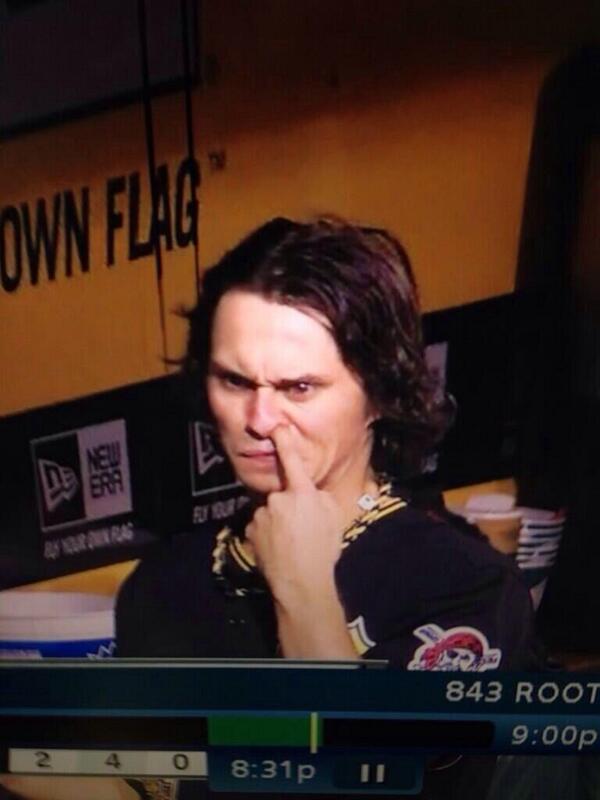 Jeff Locke is just learning young.
Frankly I think the "Redstone Rocket" has shown some signs of life since skipping that start. Granted, he hasn't been great and has only one quality start in that span, he's rebounding. He also did really take it to the Cubs.
Locke has faced the Reds three times this year and hasn't given up more than one run in any of those games.
It's quite odd because he has actually walked more batters than he has struck out. In fact he's given up more walks than hits.
Probably not a long term recipe for success.
He just keeps getting better with age it seems. A lot of people considered Bronson Arroyo done in 2011 after a horrible season. He's answered well and frankly has had a better career than most pitchers. He kind of goes unnoticed because he doesn't have blow you away stuff.
The dude is the definition of crafty. Arroyo has the potential to throw probably 25+ pitches if you account for his change in arm angle.
No shame. I like Arroyo. He's found a way to get by without the greatest stuff in the world and he's a really talented musician.
I certainly don't care for the Goo Goo Dolls, but that's impressive none the less.
All that said I hope they destroy the former Bucco tonight.
He only faced the Pirates once this season, and was very good.
That hasn't always been the case. Last year he only faced the Pirates once and they kicked his ass.
His career numbers are pretty good though, even if the record is mediocre.
He has had big problems with lefties this season. I feel like Morneau is getting close. That could be a big matchup.
If the career numbers hold true today Arroyo is a deadman.
First Pitch: 1:35 PM EST
Where To Watch: Root Sports, MLB.TV, FS-O