I can't pretend like this will be one of the better, more factual previews. I can't pretend that this one is going to be safe for kids to read. I can't pretend I'm going to be even remotely objective or subdued. THE PIRATES ARE GOING TO THE FUCKING PLAYOFFS.
All of you crazy sons of bitches deserve this.
How awesome must this feel for a guy like Neil Walker? Put the Bucs on the board early yesterday and now he has been a big part of taking his hometown team to the playoffs after all these years!
Or a guy like A.J. Burnett? He's as responsible for this as anyone.
Or Andrew McCutchen! Cutch wanted to bring playoff caliber ball back to Pittsburgh and took a discount to do it.
I was really subdued when the Pirates broke the losing streak. Now? I'm thrilled. Thrilled for the team but mostly thrilled for the fans. And I'm also thrilled for the bloggers.
Pat at WHYGAVS in particular.  I've been reading that blog literally forever.  Since before I started blogging myself.
This even extends to bloggers I don't often agree with.  Like Tim and the rest of the Pirates Prospects crew.  B.U.C.C.O Fans morphed into a fine site for Minor League analysis at EXACTLY the right time and it really kind of kept a lot of people on board.
There are too many people to name frankly so at the risk of not naming someone and offending them or making it seem like I don't like them I'll leave it at those two big sites.
I will also add one message board.  The Steeler Fury boards.  These guys were a small, but maniacal group of Pirates fans who've been through it all.  Especially a poster by the name of MeanJoeGreene75.
That fucker is the most positive person I've ever met, especially in his defense of Clint Hurdle.  He's a great, great guy and he fucking deserves this.
I don't mean to sound greedy but I want the fucking Braves.
Apparently in Oakland, even the babies deserved to celebrate!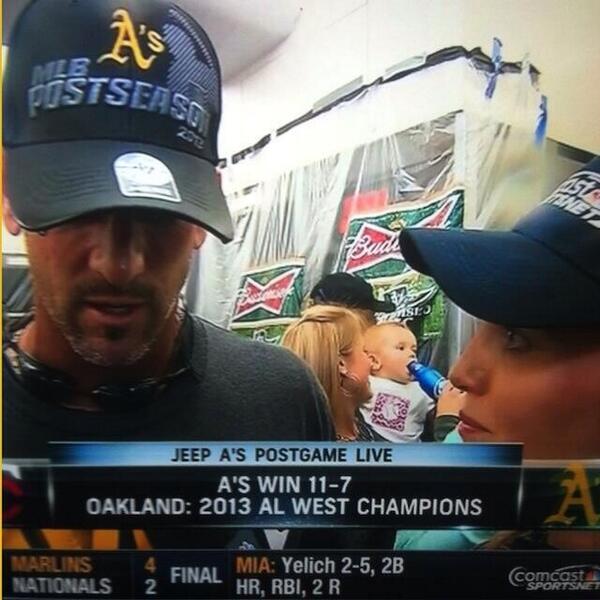 Rumor has it the beer wasn't opened.
I assure you my intention was to not make my preview a ranting manifesto but that's what happens when I write.  The fingers go on their own.  You should be used to it at this point.  If you don't like it.
Gerrit Cole can get win number 10 today.  If he does he'll be the third Pirate this season to get a double digit win total.  Jeff Locke and Francisco Liriano are the other two.
Cole Train has only faced the Cubs once. He won, he pitched great.
Cole has been outstanding as of late, showing us just the tip of the iceberg in terms of what he has the potential to be.
Gerrit has a 1.38 ERA in September and is giving up a line of .187/.260/.231/.491. The crazy thing about that is how sustainable it seems to be. His BAbip in that span is actually an extremely fair .293. That dominance comes from striking out 33 batters in 26 innings over four games. The Pirates have not lost a game he pitches in September.
So much for wearing down.
Chris Rusin will be his mound opponent today.
Here's to hoping the second time is a charm because the Pirates really didn't hit him well, despite winning the game.
The Pirates should figure out what Milwaukee is doing to him and do that.
I'll take any win we can get, I'm just so tired of these crazy nail biters.
The Pirates constructed a lineup that, on paper, should kill lefties. Especially those name Chris Rusin.
So yeah, Gaby Sanchez can play. Jordy Mercer must play. YA GOIN' DOWN RUSIN!!!!!
First Pitch: 8:05 PM EST
Where To Watch: Root Sports, MLB.TV, CSN